Featuring High Performance Hybrid Muffle Technology – Exclusive to Ceramco®'s Neytech brand of furnaces
Vulcan® benchtop furnaces are available in three standard muffle sizes and each can be purchased with one of three different controllers. Single setpoint analog controllers are an economical option when rate of temperature climb is not a concern. Single setpoint digital controllers allow the operator to control the rate of temperature climb, and monitor the progress of the program on an easy-to-read, accurate digital display. Three-stage digital programmable models have nine multi-stage programs, a hold temperature program, and a delay start option which allows a program's start time to be delayed for up to seven days.
Control option: single point analog, digital or three-stage digital programmable

High performance hybrid muffle design for faster heating and cooling than full firebrick

Safety designed, vertical lift door saves space and directs heat away from the operator\

Venturi air exchange (selected models)

Power door (selected models)

2-year limited warranty
3-550 A – 3-1750A Air Exchange Furnace : Pre-heated air is drawn through the heating chamber using an exclusive air venturi exhaust design. The result is that combustion gases are more rapidly exhausted, increasing combustion uniformity and furnace life. The furnace is designed to meet ASTM D3174 specifications. Above is the rear view of a NeyTech Vulcan furnace with a venturi exhaust system.
Our New Single Setpoint Digital Controller : Adjust the rate of temperature climb to match the requirements of different investments with this easy-to-program option.
3-550PD has a Power Door for Hands-Free Operation : You can now concentrate on the task of material handling using both hands. The remote switch closure on the Ney Vulcan 3-550PD sets the standard for safety and convenience.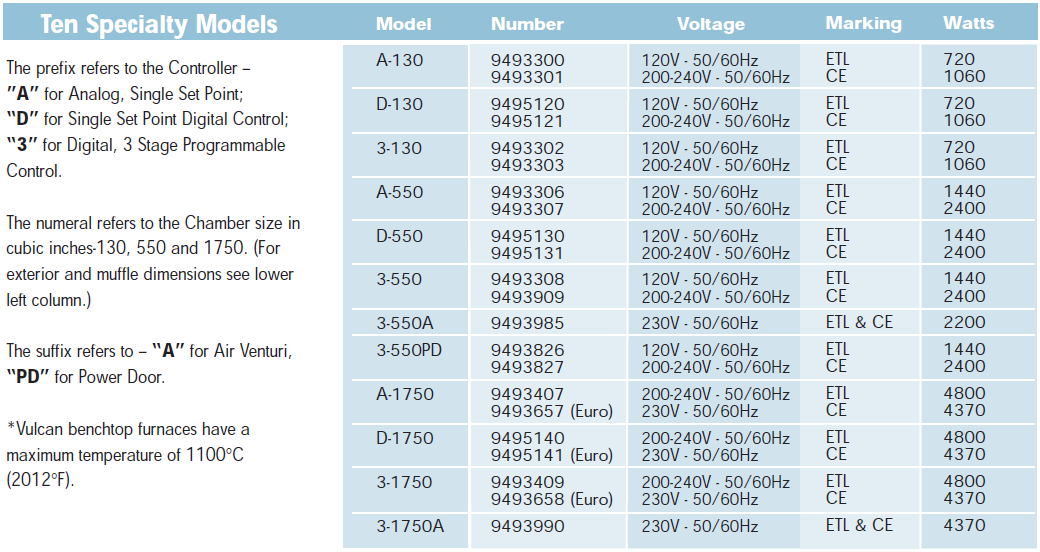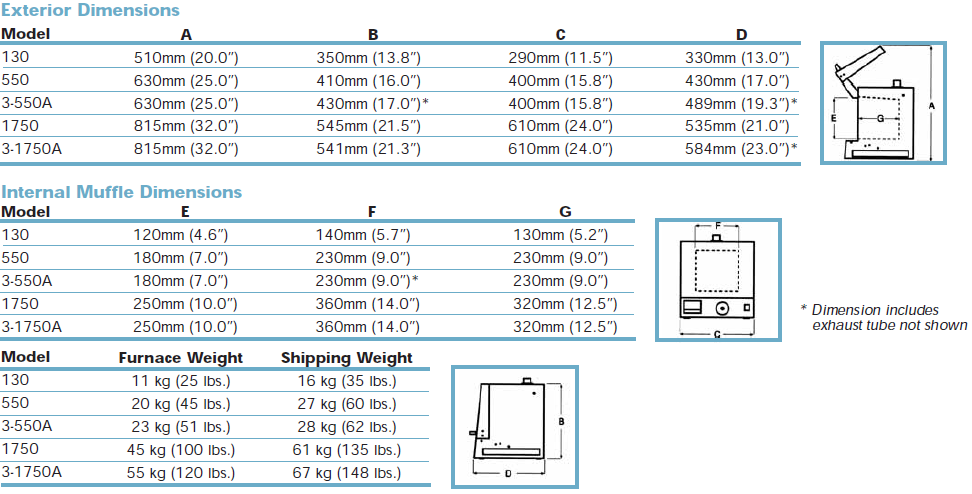 Professional furnaces: L 3/11 – LT 40/12 with folding door or lift door
Our L 3/11 – LT 40/12 series is the right choice for daily laboratory use. These models stand out for their excellent workmanship, advanced and attractive design, and high level of realibility. The furnaces come equipped with either a folding door or lift door at no extra change.
Tmax 110 degree Celcius or 1200 degree Celcius

Ceramic heating plates with integral heating element which is safeguarded against furnes and splashing, and easy to replace

Highly durable cured vacuum fibre module lining

Casing made of sheets of textured stainless steel (non-rusting design)

Double-walled casing for low external temperatures and high stability

Optional fold-down door (L) which can be used as work surface or lift door (LT) with hot surface facing away from the operator

Adjustable air inlet integrated in door

Exhaust air outlet in rear wall of furnace

Silent solid-state power control relay
Vent, vent with fan or catalytic converter

Over-temperature limit controller with adjustable cutout temperature for thermal protection class 2 in accordance with EN 60518-2 as temperature limiter to protect the oven and load

Protective gas connection on the rear wall of furnace

Manual or automatic gas supply system