Centrifuge EBA 200 / 200 S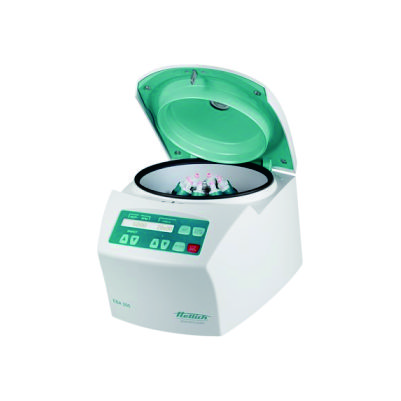 Ideal For Low Numbers os Samples
The EBA 200 and EBA 200 S are practical compact centrifuges for low numbers of samples. They are equipped with an 8-place angle rotor to hold tubes with a volume of up to 15 ml.
The EBA 200 reaches a maximum RCF of 3,461 and is ideal for use in general practices. The more powerful EBA 200 S model has a maximum RCF of 6,153 and is designed for use in laboratories handling emergency samples, where every minute counts. Its high speed enables a shorter centrifugation time so that plasma with a low platelet count can be derived for analysis in just a few minutes.
Both models are provided with a maintenance-free frequency drive and imbalance switch-off.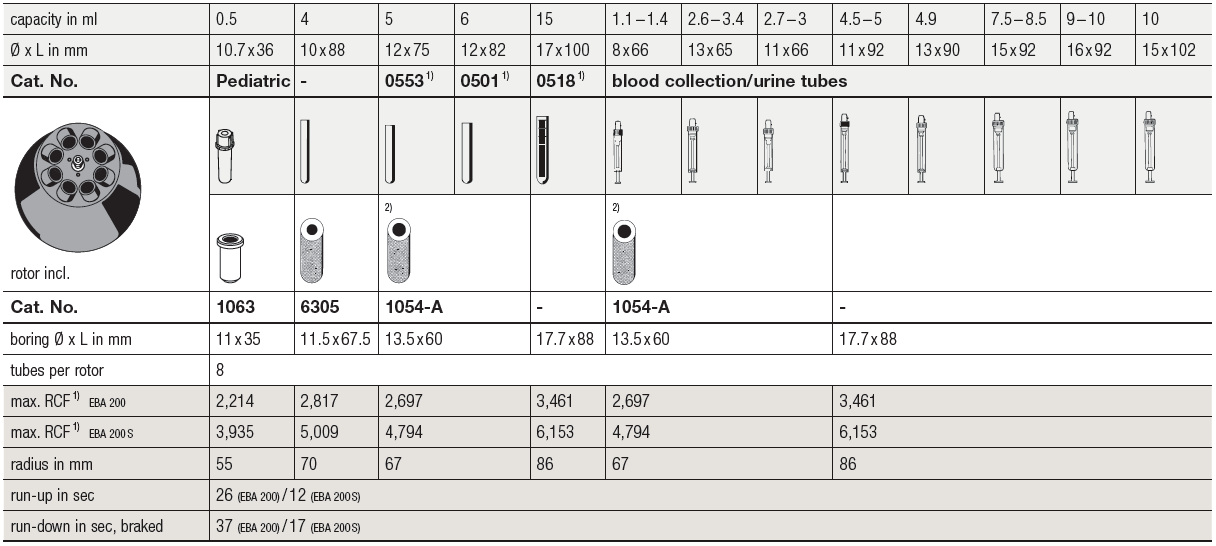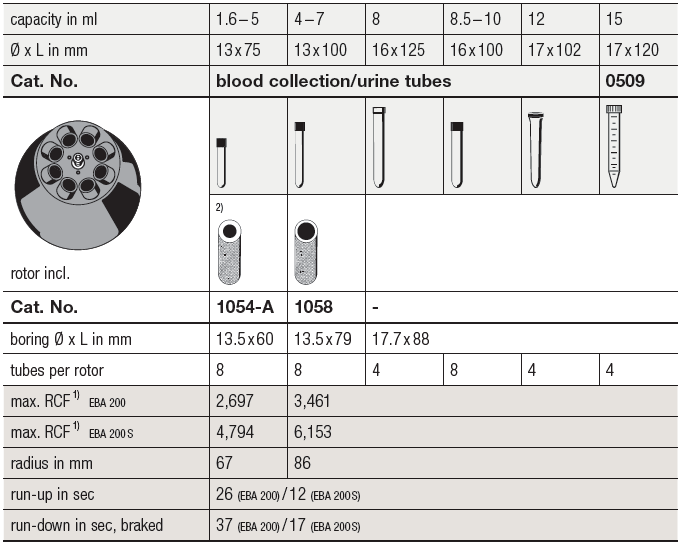 Centrifuge Universal 320 / 320 R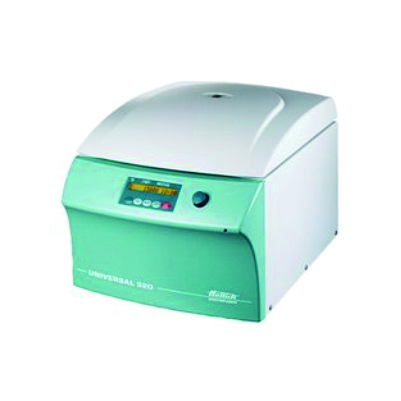 There are good reasons why we have called these centrifuges UNIVERSAL. Their excellent performance and comprehensive range of accessories enable them to carry out virtually any centrifuging task. In the low speed range, the UNIVERSAL 320 and 320 R process standard tubes up to a volume of 100 ml, microtitre plates, conical tubes with screw cap, blood collection tubes and cyto accessories. Microlitre tubes can be accelerated to an RCF of 21,382. Centrifuge tubes taking higher volumes (up to 85 ml) also profit from the extraordinary motor power of the UNIVERSAL 320 / 320 R.
At an RCF of 9,509, bacteria and yeast sediment quickly and easily.
PERFORMANCE
High RCF (

85 ml tubes up to 9,509; 

15 ml tubes up to 16,582; 

Microlitre tubes up to 21,382)

Extremely short run-up and run-down times
DESIGN
Metal housing

Metal lid

Stainless steel centrifuging chamber

Viewing port in the lid
USER-FRIENDLINESS
Powered lid-locking

Quick-entry foil keypad

Easily exchangeable rotors

10 programmable memories
REFRIGERATION (UNIVERSAL 320 R)
Infinitely variable setting from –20 °C to +40 °C

Fast cool function
SAFETY
Lid locking and holding during rotor run
Emergency lid-lock release
Motor-overheating protection
Chamber-overheating protection (with the UNIVERSAL 320 R)
Imbalance switch-off
Automatic rotor recognition
Lid dropping protection
OPTIONS
As options, the UNIVERSAL 320 R is also available :
with connection to an external refrigerated/heating circulator (provided by the customer) – Cat. No. 1406-50 (without internal cooling unit). Depending on circulator performance, the centrifuge can heat or cool within a range of 0 °C to +90 °C

with connection for flushing with nitrogen – Cat. No. 1406-20 (without monitoring and controlling system)